10/27/2011 – MAITLAND, Fla. (Sept. 23, 2011) – Tony DiMare, vice president of DiMare Company and a veteran in the tomato industry, was awarded FFVA's Distinguished Service Award during FFVA's 68th annual convention.
DiMare has worked in his family's company since 1983 and now oversees its operations in Ruskin and Homestead, Fla., and Johns Island, S.C.
He has served as a volunteer leader in numerous state and national organizations. A member of FFVA's board of directors since 1996, DiMare served on the executive committee from 1996 to 2008 and as chairman from 2004 to 2006. He took on the chairmanship during on the heels of the 2004 hurricanes, which had a significant effect on Florida's specialty crop industry.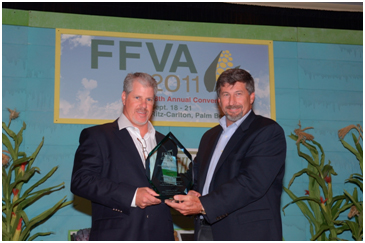 "Tony epitomizes the kind of industry-focused leaders that truly makes a difference for specialty crop agriculture," said FFVA Chairman Drew Duda said. "He has testified before Congress on industry issues, and has visited Washington and Tallahassee numerous times to take our concerns to lawmakers. Whether he is advocating for rigorous food safety standards, sound labor practices, or fair trade, Tony brings an intensity and a passion for our industry to the work that he does, and we are better because of it."
In accepting the award, DiMare said, "This is an unbelievable honor. I have so many wonderful memories of this industry. To be afforded the opportunity to serve the industry over the years has truly been a great experience and a real honor, and to be recognized by my peers and the industry is very humbling to me. I am very grateful to everyone I have worked with and to those who have helped me over the many years in this industry. We could not have accomplished the numerous feats without the support of my peers and the support of the entire industry. I very much appreciate from my heart this honor."
DiMare also has served as president/chairman of the Florida Tomato Exchange, the Florida Tomato Committee and the Florida Tomato Growers Exchange.
At the national level, he was elected in 2008 to serve on the United Fresh Produce Association's board of directors. In 2002, he was appointed by the Secretary of Agriculture to the first USDA Fruit and Vegetable Industry Advisory Committee. Also that year, he served on the Florida Agriculture Trade Advisory Committee for then-Congressman Adam Putnam.
"From my perspective, there are two types of volunteer leaders that get involved in industry associations: those who do it for the benefit of their industry, and those who do it for the benefit of their company," said FFVA President Mike Stuart. "We've been very blessed at FFVA over the years to have strong, industry-minded individuals serve as our chairman, and Tony represents the very best of volunteer leadership."
The award presentation took place during FFVA's 68th Annual Convention at The Ritz-Carlton in Palm Beach. Florida Fruit & Vegetable Association is an agricultural trade organization representing Florida's producers of fruits, vegetables and other crops.