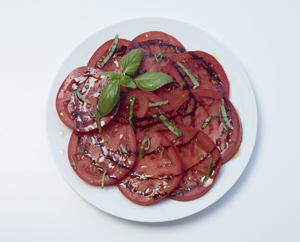 Tomatoes are one of the most versatile fruits in the field. You can use fresh tomatoes in every meal from breakfast through dinner with a snack in-between; getting your daily essentials like vitamin C, fiber and potassium while giving yourself an enjoyable challenge in the kitchen.
Florida tomatoes are perfect for a morning to night food challenge because they are readily available, easy on the budget and are the perfect food chameleon. The tomato can be the star of the dish, the sweet companion or the secret ingredient that gives the recipe a certain something special.
Breakfast: Begin your day with a glass of freshly made tomato juice and a Florida Tomato and Veggie Crepe.
Lunch: Soup and Salad are a classic filling combination. The Tomato and Bulgur Salad gives you a unique twist and pairs nicely with Broiled Fresh Tomato Soup.
Snack time: Salsa with baked pita chips is a winner every time and will satisfy that 3:00 o'clock craving.
Dinner: The Tomato and Tortellini Toss is light yet filling and ready in fifteen minutes.
Dessert: Seems unlikely right? Try this recipe for Tomato Tarte Tatin using Florida tomatoes and your sweet tooth will be soothed and delighted.
Just like, that you have a full day of delicious and nutritious meals all utilizing the ever-versatile Florida tomato.
Visit floridatomatoes.org for more recipes and information.