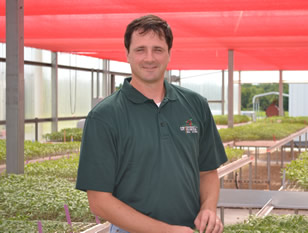 Tomato breeding at the University of Florida has been ongoing since 1922. Early work focused primarily on disease resistance and adaptability to local conditions. A full-fledged tomato breeding program was initiated in 1942 and continues today. Throughout this time, management of the program has transitioned between eleven different breeders. Among these, Dr. John (Jay) W. Scott has maintained the longest career as a UF/IFAS tomato breeder, serving 34 years from 1981 to 2015. The breeding program is now managed by Dr. Samuel (Sam) F. Hutton, who was hired in 2010 after spending the prior six years working as a graduate student and as a post-doctoral researcher with Jay Scott.
Fresh market tomato production represents Florida's largest vegetable industry. Over the decades, contributions from the UF/IFAS tomato breeding program have had major impacts towards the success of this industry. Some examples include:
The release of 'Walter' in 1969—the first Fusarium wilt race 2 resistant cultivar
Improved levels of tomato fruit firmness borne out of a cooperative project with the H. J. Heinz Company in the 1960's
The release of 'Solar Set' in 1989—a heat-tolerant hybrid that improved fall crop yields
The discovery of resistance to Fusarium wilt race 3 in the 1980's
The introduction resistance to Tomato Yellow Leaf Curl Virus and other begomoviruses in the 1990's
The release of 'Tasti-Lee'™ in 2006—a premium quality tomato for vine-ripe markets
In some ways, the goals of the UF/IFAS tomato breeding program are the same as in 1922: development of commercial varieties that are adapted to Florida's conditions and have a strong disease resistance package. Yet because of modifications to production practices, changes in market demands, and shifts in pathogen populations, breeding improved varieties is a never-ending process. Much of the program's breeding focus is on the more "routine" aspects of breeding, which is quite similar to what is done by private sector breeders (simply put: development of new parents and new hybrids that have high yields of marketable fruit and carry resistance to important diseases). Other research projects are long-term and high-risk, and are thus less likely to be pursued by the private sector. Examples of such projects currently underway include: development of tomatoes which do not need to be staked and tied, and which might be mechanically harvested; introduction of insect-resistance genes from wild tomatoes in order to reduce the need for pesticide applications; identification of genes controlling resistance to the fruit disorder, graywall.
In summary, the UF/IFAS tomato breeding program is the only public, tropical tomato breeding program in the USA. Whereas many public breeding programs have shifted away from variety development toward basic science and germplasm improvement, this program has sought to maintain an applied, commercially-relevant focus. The direction of the program is toward development of both parent lines and finished hybrids that are adapted to Florida's subtropical climate, as well as on important projects that might not be pursued by the private sector. Support from the Florida Tomato Committee is essential to the work that is done here.
Samuel F. Hutton
Assistant Professor, Tomato Breeding and Genetics
Univ. of Florida Horticultural Sciences
Gulf Coast Research and Education Center
14625 CR 672, Wimauma, FL 33598
office: (813) 633-4137
sfhutton@ufl.edu