5/18/2011 – MAITLAND, FL – Laurie Lufkin of Essex, Massachusetts, wins the first "Most Delicious Dish" Florida tomato recipe contest with her "Red Florida Tomato Basil Pie with Savory Parmesan Crust." The winning entry was selected by Florida Chef Justin Timineri, executive chef and culinary ambassador of the Florida Department of Agriculture and Consumer Services and Samantha Winters, director of education and promotion for the Florida Tomato Committee, which sponsors the contest. The Most Delicious Dish recipe contest celebrates the versatility and great flavor of Florida tomatoes.
"Laurie Lufkin has submitted a recipe that uses multiple types of Florida tomatoes paired with classic flavor combinations," said Florida Chef Justin Timineri. "Her recipe is comforting and inviting; two things that speak to the modern home cook. This is definitely a recipe that I would be proud to serve in my home."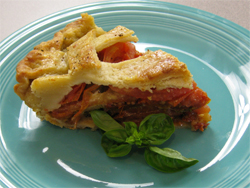 For Lufkin, Florida tomatoes flavor and nearly year-round availability makes them a winner for her, "Cooking with Florida tomatoes is a treat, particularly when they give me a little taste of Summer during those long, cold New England Winter and Spring months," says Lufkin. "Florida tomatoes are flavorful, packed with great nutrition and versatile. I love them!"
"We were immediately drawn to Laurie's recipe," says Samantha Winters, director of education and promotion for the Florida Tomato Committee of the winning entry. "The combination of ingredients really showcases the flavor of fresh Florida tomatoes. We are proud to honor Laurie's recipe and excited to add this dish to our repertoire."
Recipe entries are being accepted through June, for the spring contest, with new submissions being accepted in September in line with the next Florida tomato season. Winners are awarded a cash prize and a Florida tomato apron.
Florida is the nation's largest producer of fresh tomatoes. With almost every southern county in the state cultivating tomatoes, Florida produces virtually all the fresh-market, field-grown tomatoes in the U.S. from October through June each year, and accounts for about 50 percent of all fresh tomatoes produced domestically.
Red Florida Tomato Basil Pie with Savory Parmesan Crust
Ingredient List
For the crust:
2 ½ cups all purpose flour
1 cup butter, frozen and cut into cubes
¼ cup finely grated parmesan cheese
8-10 tablespoons ice water
For the Florida tomato filling:
1 to 1 ½ pints cherry or grape tomatoes-cut in half along the 'equator'
2-3 tablespoons olive oil
1-2 tablespoons fresh or dried herbs, such as oregano or thyme
2 pounds large fresh Florida tomatoes
1 tablespoon tapioca
1/3 cup prepared basil pesto
½ pound soft cheese, such as fresh mozzarella sliced
½ cup julienne sun dried tomatoes (not packed in oil)
1 egg, beaten
Salt & pepper to taste
Directions
For the crust:
In the bowl of a food processor (or by hand, or with a fork, or a pastry blender) combine flour and butter until butter is incorporated and the size of small peas. Blend in cheese. Add water, a tablespoon at a time, pulsing if you are using the processor. Mix until dough forms a loose ball. Divide in half, form into a disc and wrap tightly in plastic wrap. Refrigerate for at least one hour or until ready to use. This step can be done days in advance!
For the filling:
Preheat oven to 300 degrees. Toss cut tomatoes with olive oil, herbs and salt and pepper to taste. Bake in preheated oven for 1 hour until wrinkled, lightly browned and caramelized. Set aside to cool (this step can be done well in advance as well).
When ready to bake, increase oven temperature to 375°. Move oven rack to the second to bottom setting and place a stoneware baking stone on the rack (if available).
Slice fresh Florida tomatoes into ¼ inch slices and lay flat on a kitchen towel to remove some of the moisture. Lay another towel on top and press down lightly. Set aside.
Roll out one crust and fit into pie plate. Sprinkle tapioca on to the bottom of the crust and top with julienne sun dried tomatoes. Sprinkle on half of the roasted tomatoes. Place a layer of fresh tomatoes over sun dried and spread on pesto. Top pesto with cheese, remaining roasted tomatoes, followed by another layer of sliced tomatoes.
Roll out remaining crust and cut into strips. Make a lattice (woven) crust for the top or a traditional flat top crust with lots of vent holes to allow the steam to escape. Brush top crust with beaten egg and sprinkle on freshly ground black pepper. Bake in preheated oven for 45 minutes uncovered. Cover top lightly with aluminum foil if over browning and cook for 5-10 more minutes until bottom crust is browned. Allow to cool on a baking rack for 10 minutes before serving. Can be served hot or cold.
Enjoy!