4/29/2011 – MAITLAND, FL – Chef Joe Alfano, of Universal Orlando CityWalk, is the winner of the very first Florida Tomato Foodie Award, a tomato feature contest that celebrates chefs who are really into Florida tomatoes. The winning feature is Alfano's "Florida Tomato Terrine with Spring Mix and Grilled Ricotta Salata," made with a trio of Florida tomatoes – pear, yellow and field-grown red. It is presented with fresh spring mix greens, grilled ricotta salata, and basil vinaigrette.
The winning entry was selected by Florida Chef Justin Timineri, executive chef and culinary ambassador of the Florida Department of Agriculture and Consumer Services and the Florida Tomato Committee, who sponsors the contest.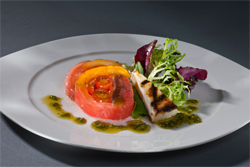 With true Florida style and taste, Chef Joe Alfano created an amazing menu feature showcasing Florida tomatoes. "I am so pleased to see talented chefs like Joe Alfano adding their creativity and expertise to the sublime Florida tomato," says Florida Chef Justin Timineri. "Chef Joe Alfano has raised the bar even higher in a search for recipes that showcase the Florida tomato!"
Although growing up in the Northeast, Alfano has been a chef with Universal Orlando Resort for 22 years, and is currently the Chef of the resort's 30-acre entertainment complex, CityWalk, which is home to multiple restaurants, shops and nighttime entertainment venues. "My Sicilian grandmother loved Florida grown tomatoes, so within our family, it was a must that if you visited Florida, you had to bring back tomatoes to Nana in Boston," says Chef Alfano. "Since then, Florida tomatoes have always been featured in the menus I design."
"In speaking with Chef Alfano, I discovered this winning entry to be one of many fresh Florida tomato dishes Chef Alfano enjoys featuring at the events he caters and his guests love it," said Samantha Winters, director of education, for the Florida Tomato Committee. "This is the perfect kick-off for this contest! I can't wait to see what's next."
Foodservice features are being accepted through June 20, 2011 for the spring contest, with new submissions being accepted in September in line with the next Florida tomato season. In addition to an official "Florida Tomato Foodie Award" winner certificate from the Florida Tomato Committee, winners are awarded a cash prize and a Florida tomato.