2/13/2012 – Wes Crabbe from Dallas, Texas writes, "I love Florida tomatoes because they are full of fantastic flavor and can be added to so many different dishes to enhance the taste. They taste wonderful roasted in my tomato basil soup recipe."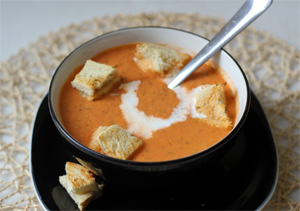 For the soup:
6 Florida Tomatoes
3 cloves garlic
1/2 red onion
1 shallot
1 can fire roasted diced tomatoes
20 ounces chicken stock
3/4 cup fat-free half & half
1/4 cup 2% milk
12 fresh basil leaves
1/4 cup fresh parsley
2 teaspoons italian seasonings
2 teaspoons salt
1 teaspoon pepper
For the croutons:
2 pieces bread
3 slices cheese (I used pepperjack)
Preheat oven to 350 degrees
Chop tomatoes into thirds. Put on a cookie sheet, along with garlic, onion, and shallots. Roast for about 20 minutes.
Remove veggies from the oven. Place in a large sauce pan, add diced tomatoes, basil, parsley, chicken stock, milk, and half & half.
Using an immersion blender, blend mixture until it is nearly smooth. I left mine a little "pulpy" if you will because I wanted some texture, but you can blend it as much as you would like. Once blended, turn heat to about medium, add spices, stir and bring to a boil. Turn heat down to low and let simmer for 20 minutes.
While soup is simmering, prepare croutons. Layer several pieces of cheese in between two pieces of bread and cut into tiny squares. Place on a cookie sheet and bake at 350 for about 10 minutes.
Serve soup with grilled cheese croutons piled on top.