6/12/2012 –
I'm starting to see the first heirloom tomatoes at the farmers' market, which is always exciting. While my favorite way to eat a perfectly ripe tomato is sliced raw in an open-face sandwich—toasted baguette, a slather of fresh ricotta, a few slices of tomato, then a drizzle of good olive oil and a sprinkle of sea salt—I recently judged a tomato recipe contest that inspired me to expand my horizons.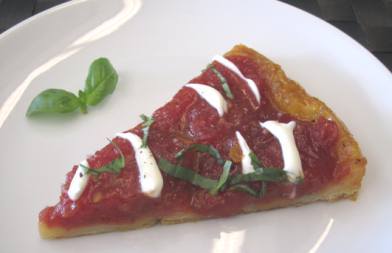 The winning recipe, Florida Tomato Tarte Tatin, was absolutely delicious and innovative. Think of a traditional tarte tatin—puff pastry topped with caramelized sliced apples—and replace the apples with tomatoes. Cooked slowly in butter and sugar, the tomatoes become sweet and extremely tender, their flavor concentrated and intense. Delicious! The crème fraiche, basil, cracked pepper, and fleur de sel garnishes add a savory note that helps balance out those jammy, rich tomatoes. It was a clever, surprising dessert and I savored every bite.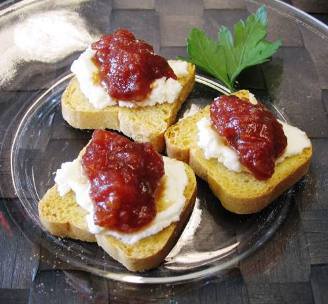 I was also wowed by the first runner up, Spicy Tomato and Orange Jam. Crushed red pepper flakes provide a little kick, and the spices—cinnamon, ginger, cumin, and allspice—were nicely balanced. It was a tasty accompaniment to mild goat cheese on bread, though I can see this working with a lot of things—pork, hot dogs, firm white fish, and even—if you're like me—just straight with a spoon.
Florida Tomato Tarte Tatin
Recipe by Alexis Eldstrom
Serves 8
5 small Florida tomatoes (2 pounds)
3 tablespoons unsalted butter, melted
3/4 cup sugar
2 teaspoons fresh lemon juice
2 teaspoons balsamic vinegar
1 teaspoon vanilla extract
1/4 teaspoon salt
1/4 teaspoon finely ground black pepper
1 sheet puff pastry, cut into a 9-inch round
Crème fraiche, fresh basil ribbons, fresh cracked black pepper, and fleur de sel for garnish
Blanch, peel, quarter, and seed tomatoes. In a 9-inch ovenproof skillet, combine butter and sugar. Add tomato quarters, rounded side down and cook over medium heat, turning tomatoes occasionally until they are crisp-tender and look caramelized, 20 to 25 minutes. With a slotted spoon, gently remove tomatoes to paper towels and set aside to cool slightly. Cook syrup in skillet until it thickens but doesn't caramelize, about 5 minutes. Set skilled aside until syrup has cooled enough to work with, about 10 minutes.
Preheat oven to 425 degrees F. Meanwhile, in a small bowl, stir together lemon juice, vinegar, vanilla, salt, and finely ground black pepper. Arrange the tomatoes in the skillet rounded side down. Pour lemon juice mixture over them and top with the puff pastry. Cut 3 slits in the pastry. Bake tart until puff pastry is golden brown, about 20 minutes. Remove to a cooling rack and cool 10 minutes. Loosen pastry from edge of skillet. Place a plate over the skillet and using oven mitts to protect hands from hot syrup, invert tart onto plate. Serve warm garnished with crème fraiche, basil, cracked pepper, and fleur de sel.
Spicy Tomato and Orange Jam
Recipe by Alan Maceiras
Yield: About 1 cup
3 medium Florida tomatoes (1 1/2 pounds)
1 1/2 teaspoons crushed red pepper flakes
3/4 teaspoon ground cinnamon
1/2 teaspoon ground ginger
1/2 teaspoon ground cumin
1/4 teaspoon allspice
3/4 cup sugar
2 teaspoons orange juice
1/2 teaspoon finely chopped fresh cilantro
Blanch, peel, seed, and coarsely chop the tomatoes (about 2 1/3 cups). In a deep, heavy saucepan, combine red pepper flakes, cinnamon, ginger, cumin, and allspice. Heat over medium heat, stirring constantly, until aromatic, about 1 minute. Stir in the tomatoes, sugar, orange juice, and cilantro. Bring to a boil over high heat; reduce heat to low and simmer, uncovered, until very thick, stiffing occasionally, 30 to 40 minutes.