3/4/2012 –
PALMETTO Bob Spencer, vice president of sales for West Coast Tomato, will proudly say his company, as well as its larger enterprise, McClure Farms, has always tried to contribute to needy causes.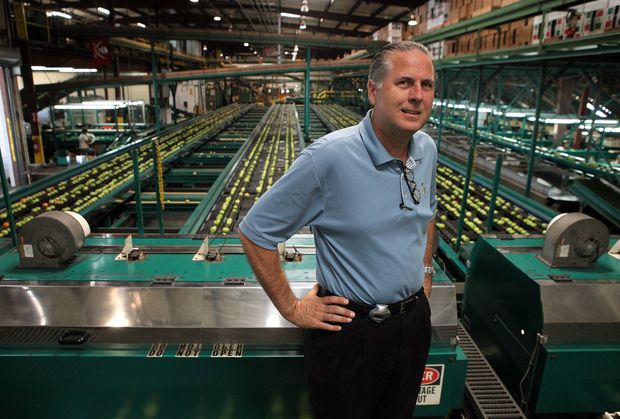 Bob Spencer, of West Coast Tomato, will receive the inaugural Feeding Hope Award from the Florida Association of Food Banks for his work in donating food through the Farmers Feeding Florida program Monday. TIFFANY TOMPKINS-CONDIE/Bradenton Herald
So when he was approached in 2009 about sitting in on preliminary meetings to create Farmers Feeding Florida, a food recovery and donation program, Spencer saw it as "another opportunity to get involved."
Nearly three years later, his contributions to the program instituted by the Florida Association of Food Banks has earned him state-wide recognition.
Today, Spencer will receive the inaugural Feeding Hope Award from the Florida Association of Food Bank. The presentation will take place at 12:30 p.m. at West Coast Tomato, located in Palmetto.
To date, West Coast Tomato has donated nearly two million pounds of tomatoes to help feed the hungry across the state. Spencer sits on the Farmers Feeding Florida advisory board.
"It's an award that's on behalf of our company, the tomato industry and agriculture industry as a whole," Spencer said."
Through Farmers Feeding Florida, food banks recover food that doesn't reach the retail market because of blemishes or market conditions and distributes it to organizations around the state that feed the hungry. Spencer has been an advocate of the program and suggested methods to approach other growers and packers around the state. Organizations like Our Daily Bread in Bradenton depend on donations from food banks. "Its a tremendous help," said Penny Goethe, kitchen manager at Our Daily Bread. "If we had to buy all our food, we couldn't feed everybody. If it wasn't for donations, you couldn't operate." Spencer said because organizations like Our Daily Bread have made investments in large freezers and refrigerators, they can better store fresh produce. "In the past, it was difficult to give fresh produce because they didn't have proper storage equipment," he said.
Our Daily Bread has two walk-in freezers and two walk-in refrigerators, along with seven stand up freezers and refrigerators, much of which was purchased in the last three years, Goethe said. "I have six five gallon buckets of tomato sauce that we have stewed and frozen," Goethe said. "In six months when there are no tomatoes out there, we'll have spaghetti sauce." Rebecca Brislain, executive director of FAFB, said Spencer "has been a proponent for Farmers Feeding Florida from the beginning." "His advice and expertise was instrumental," she said. "To feed nutritious meals is a great thing," Spencer said. "We're happy to be involved."
Twenty five percent of families with children in the Bradenton-Sarasota-Venice reported difficulties putting food on the table at some point during the past year, according to data released in 2011 by the Food Research and Action Center. The local area ranked 41st among the country's top 100 metropolitan statistical areas in hardship among households with children.