Instructions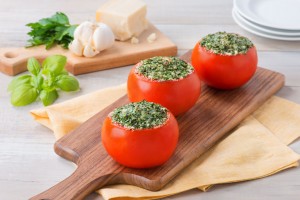 This Italian inspired recipe is so simple and easy to prepare. Serve as a side vegetable dish with grilled meats, poultry or fish.
4 medium firm, ripe, Florida tomatoes
½ cup Italian parsley, finely chopped
½ cup basil, finely chopped
3 cloves garlic, peeled and finely chopped
2 T. olive oil
Salt and freshly ground black pepper
½ cup Parmesan cheese, grated
Preheat oven to 350 degrees.
Remove the tops of the tomatoes, and scoop out seeds and pulp with a small spoon, cut off a slice from the bottom to prevent rolling and arrange tomatoes in a baking dish.
In a small bowl combine the parsley, basil, garlic, and salt and pepper to taste. Stir well and spoon 2 tablespoons into each tomato. Drizzle with olive oil. Top each tomato with 1 T. cheese.
Bake 20 minutes, or until soft. Serve at room temperature.
Serves 4