Instructions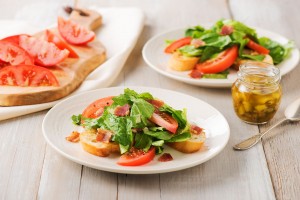 1 thin loaf (baguette) French bread
1/4 cup olive oil
5 slices bacon
3 tablespoons red wine vinegar
1 teaspoon sugar
1 tablespoon chopped fresh basil or 1 teaspoon dried basil
2 large Florida tomatoes, cored
1 head romaine lettuce
1 medium onion chopped
Salt and freshly ground pepper to taste
Directions Preheat oven to 400 degrees. Slice the loaf of bread on the diagonal into 12 3/4-inch-thick slices. Lay them on a baking sheet and toast in the oven for 15 to 20 minutes, until golden brown. Brush each one lightly with olive oil and set aside.
While the bread toasts, fry the bacon in a large skillet until crisp, pouring off all but about 2 tablespoons of the fat. Put the bacon aside on a plate lined with a paper towel.
Put the vinegar, sugar, and basil in a mixing bowl and set aside. Slice the tomatoes into thin wedges and put them aside in a separate salad bowl. Wash the inner leaves of lettuce and dry them well. Tear into pieces and add them to the bowl with the tomatoes.
Heat 2 tablespoons of the remaining olive oil in the pan with the bacon fat. Add the onion and sauté over medium heat, stirring, for 1 minute. Scrape the onion into the bowl with the vinegar and stir the dressing well.
Pour the dressing over the tomatoes and lettuce and toss well. Season to taste with salt and pepper.
To serve, arrange 3 slices of toast on each plate, ends touching in the center. Pile the dressed salad in the center of the toasts, then crumble the bacon and sprinkle it over the top of each salad. Serve at once.
YIELD: 4 servings