Instructions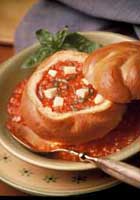 2 pounds fresh Florida tomatoes
3 medium onions cut in halves
6 garlic cloves
2 tablespoons olive oil
1 tablespoon red wine vinegar
1 teaspoon sugar
½ teaspoon salt
½ teaspoon ground black pepper
1 can (13 ounces) ready-to-serve chicken broth
4 large (5-inch) Kaiser rolls
1 cup cubed Muenster cheese
Use tomatoes held at room temperature until fully ripe; core and cut in halves. Preheat broiler. On a shallow pan, arrange tomato and onion halves cut side down. Place garlic cloves around the vegetables. In a cup mix oil, vinegar, sugar, salt and pepper. Brush over vegetables, coating completely. Broil 3 to 4 inches from heat source until lightly charred, 10 to 15 minutes, removing garlic cloves as they brown and soften and turning pan around for even cooking.
Turn vegetables over and broil until lightly charred and tender, about 10 to 15 minutes longer.
Remove pan from broiler and cool; peel skins from tomatoes. In a food processor or blender, puree tomatoes, onions and garlic with the pan juices until fairly smooth. Pour into medium saucepan; stir in chicken broth. Bring to a boil; reduce heat to medium-low; cover and simmer to blend flavors, about 10 minutes.
Remove from heat and keep warm. To make bread bowls; Preheat oven to 400F. Using a sharp knife, cut off the top of each roll. Pull out soft centers, leaving ½-inch thick shells; discard soft bread. Reserve tops. Place "bowls" and tops on a baking sheet. Bake until crisp, about 5 to 8 minutes, turning once.
To serve, place rolls in soup plates. Ladle hot soup into and around "bowls." Top with cheese cubes. Garnish with basil or parsley, if desired. Serve immediately.
YIELD: 4 portions, or 5 cups