Instructions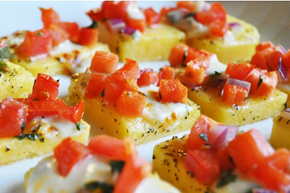 This dish works great as an appetizer or side dish.
2 tablespoons olive oil
1 pound of sliceable polenta, sliced 1/4 inch thick
2 teaspoons Italian seasoning
1 1/2 cups of diced Florida tomatoes
1/2 cup diced red onion
2 teaspoons olive oil
3/4 cup diced fresh mozzarella
2 tablespoons chopped fresh basil
Cover a baking sheet in aluminum foil; set aside.
In a medium non-stick skillet, heat 2 tablespoons of oil on medium-high heat.
Sprinkle both sides of the polenta with the Italian seasoning. Add the polenta slices and sauté for about 4-5 minutes on each side. Once both sides have been sautéed, place on the prepared baking sheet.
Meanwhile, combine the tomatoes, red onion, olive oil, fresh mozzarella and fresh basil in a bowl; set aside until all of the polenta pieces are finished and on the baking sheet.
Spoon approximately 1 tablespoon on top of the polenta.
Broil for 5-6 minutes, until the mozzarella has melted and is slightly bubbly.
Serve warm.
This recipe was developed by Patsy Kreitman, author of the blog FamFriendsFood.