Instructions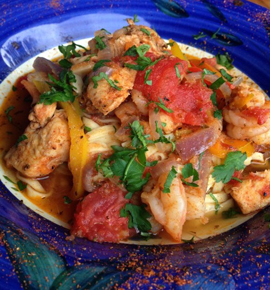 This spicy and flavorful dinner entrée will fill a
belly and put a smile on your face!
3 boneless/skinless chicken breasts, cut into 1″ pieces
3 tablespoons + 2 teaspoons Cajun spice
1/2 cup bell pepper, cut into thin strips
1/2 cup red onion, cut into thin strips
1/2 lb. shrimp (shells, tails, and veins removed)
4 garlic cloves, minced
1/2 teaspoon Kosher salt
1/4 teaspoon ground black pepper
1 teaspoon crushed red pepper
2 Florida tomatoes, diced into 1″ pieces
1 1/2 cups chicken and/or seafood stock (I used
a mix of chicken and seafood)
1 tablespoon fresh parsley, chopped
1 lb. linguini pasta
Heat the olive oil in a large sauté pan. Chop chicken into 1" pieces and place in a large mixing bowl. Toss 3 tablespoons of Cajun spice over the chicken. Let the chicken sit for 15 minutes with seasoning. In another bowl, add the peeled, deveined and cleaned shrimp. Toss the shrimp with the extra 2 teaspoons of Cajun spice. Make sure chicken and shrimp are coated in the spice. Add a little black pepper, if you choose.
Once the pan is hot and ready, add the chicken and sauté until it is about half done. (You do not want the chicken to fully cook now because you will be combining the rest of the ingredients and allowing it all to cook together.)
Next, add the peppers, onions and shrimp into the sauté pan with the chicken. Repeat what you did with cooking the chicken – cook until the shrimp is about halfway cooked. Add your minced garlic and season with additional salt, crushed red pepper, and black pepper. Add more Cajun spice to taste.
Lastly, add the diced tomatoes and chicken/seafood broth into the sauté pan. Gently stir the ingredients together. Continue to cook until the chicken and shrimp are done and the vegetables are tender.
Cook your pasta following the directions on the back of your box, or until al dente.
Serve your jambalaya pasta in bowls. Start with a layer of the pasta and then add the jambalaya over it. Garnish with a sprinkle of freshly chopped parsley and serve with freshly baked crusty bread.
This recipe was developed by Natasha Kennedy, author of the blog That's So Yummy.