Instructions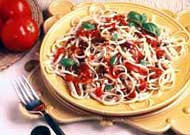 A very classic Italian pasta dish from the region of Campania. This cuisine is colorful and full of character, and is based largely on its plentiful use of tomatoes, herbs, anchovies and garlic. This dish has a very piquant fresh tomato sauce.
6 large firm, ripe, Florida tomatoes, coarsely chopped
4 T. olive oil
1 clove garlic, peeled and crushed
3 canned flat anchovy fillets, minced
1 t. hot pepper flakes
2 T. tomato paste
½ cup red wine
2 T. tomato paste
½ T. capers, brine-packed, drained
16 Greek olives, pitted and coarsely chopped
Salt and freshly ground black pepper
1 pound capellini or linguini pasta
Preheat oven to 400 degrees
Toss the tomatoes, in 2 T. of the olive oil in a large baking dish. Bake for about 20 minutes or until lightly charred. Remove and place tomatoes through a food mill into a small-sized bowl. Set aside.
In a large sauté pan add remaining olive oil and heat until warm. Add the garlic and gently cook until soft. Add anchovies and mash with the back of a wooden spoon. Add hot pepper flakes, tomato paste, red wine, capers, and olives and cook very slowly on medium heat, stirring continuously, for about 5 minutes. Add the roasted tomato sauce to the mixture and simmer for 1 hour over medium heat. Lightly season with salt and pepper to taste.
Bring 5 quarts of water to a boil. Add 1 t. salt and stir in pasta so that it doesn't stick to the bottom of the pan. Cook for 9 to 10 minutes, or until firm to the bite.
Drain the pasta and toss with the tomato anchovy-caper sauce. Serve immediately.
Serves 4