Instructions
Strudel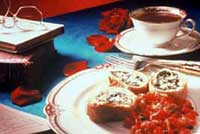 1 10-ounce package frozen chopped spinach
1/2 pound ricotta cheese
1 cup grated mozzarella cheese
2/3 cup freshly grated Parmesan cheese
2 pinches of ground nutmeg, salt and freshly ground pepper to taste
6 sheets phyllo dough, measuring 14 by 18 inches each
3 tablespoons unsalted butter
Fine dry bread crumbs
Warm Tomato Relish
2 tablespoons olive oil
1 small onion, minced
1 celery rib, minced
4 large Florida tomatoes, cored, seeded, and coarsely chopped
1/2 cup grated carrot
1 teaspoon fresh thyme or 1/2 teaspoon dried
Salt and freshly ground pepper to taste
1 teaspoon fresh lemon juice
2 teaspoons chopped fresh parsley
Cook the spinach according to the package directions and cool on a plate. Squeeze out the excess moisture by hand and mix with the cheeses in a bowl. Stir in the nutmeg and salt and pepper to taste. Preheat the oven to 375 degrees.
To assemble, lay a sheet of phyllo on your work surface with a short edge facing you. Brush it lightly with butter and sprinkle with crumbs. Repeat this layering until all the sheets of phyllo are used.
About 3 inches in from the short edge facing you, arrange the filling in a mounded row about 3 inches wide, leaving about 3 inches uncovered along each long edge so you can fold the sides over. Fold the sides of the phyllo over the filling, then fold the short end of exposed phyllo over the filling. Continue to roll the phyllo into a log. Poke 2 small steam vents in the top with a paring knife.
Place the strudel on a baking sheet and bake for 30 to 40 minutes, until golden brown.
While the strudel bakes, make the relish. Heat the oil in a medium-size nonreactive saucepan. Stir in the onion and celery and sauté over medium heat for 3 minutes. Stir in the tomatoes, carrot, thyme, and salt and pepper to taste. Simmer the relish gently until most of the liquid has cooked off. Remove from the heat.
Right before serving, rewarm the relish. Remove from heat and stir in the lemon juice and parsley. Slice the strudel and serve hot with some of the relish spooned around each slice.
YIELD: 6 servings