Instructions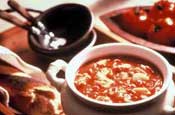 Cioppino is a California-style seafood stew made with a tomato-based broth and originally created by Mediterranean fishermen who settled in that state. This version is simple and honest, easily adaptable to your favorite seafood. Serve with nothing more than good bread and a glass of white wine.
1/3 cup olive oil
2 large onions, halved and thinly sliced
1 large green bell pepper, chopped
2 cloves garlic, minced
3-1/2 cups (about 5 large) cored, seeded, and chopped tomatoes
1 cup dry white wine
2 tablespoons tomato paste
1 bay leaf
1 teaspoon fresh thyme or 1/2 t. dried thyme
1/4 teaspoon salt
1 6-1/2-ounce can chopped clams with their juice
1-1/2 pounds thick cod, haddock, or other boneless fish fillets, cut into 2-inch pieces
1/2 pound bay or sea scallops
1 tablespoon chopped fresh basil or 1 teaspoon dried basil
Freshly ground pepper to taste
Directions In a large enameled soup pot or Dutch oven, warm the olive oil. Stir in the onions and green pepper and sauté over medium heat, stirring occasionally, for 7 minutes.
Stir in the garlic, cook for another minute, then stir in the tomatoes, wine, tomato paste, bay leaf, thyme, and salt. Bring to a simmer, then simmer the broth, partially covered, for 10 minutes.
Stir the clams and their juice into the stew. Add the chunks of fish fillet. Cover and simmer for 5 minutes.
Stir the scallops and basil into the stew. Cover and simmer for 4 to 8 minutes more, until the scallops are done. Salt and pepper the stew, then serve piping hot.
YIELD: 4 to 6 servings