Instructions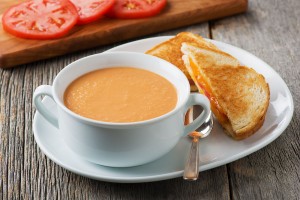 This soup has the real thing, fresh tomatoes and heavy cream, and you can taste the difference. On top of that, it's a real breeze to prepare. Round it out with grilled cheese sandwiches, potato chips, and pickles, and you've got the makings for a surefire family favorite.
2 tablespoons unsalted butter
1 small onion, finely chopped
2 celery ribs, finely chopped
4 large Florida tomatoes, peeled, cored, seeded, and chopped (see note)
1 teaspoon sugar
2 cups chicken broth
1/2 cup heavy cream
2 teaspoons chopped fresh dill weed or 1 teaspoon dried
Salt and freshly ground pepper to taste
Melt the butter in a medium-size nonreactive saucepan. Add the onion and celery and sauté gently over medium heat for 5 minutes, stirring often; do not brown. Stir in the tomatoes and sugar. Simmer, covered, for 6 to 8 minutes, until the tomatoes are soft.
Transfer the vegetables to a food processor and process to a smooth puree. Pour the puree back into the saucepan and stir in the remaining ingredients. Heat the soup through, correcting the seasoning. Serve hot.
YIELD: 4-6 servings
NOTE: To peel the tomatoes, submerge them for 15 to 30 seconds in boiling water. Remove to a colander and rinse briefly under cold water. The skins will slip right off.