Instructions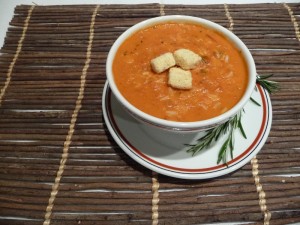 5 large (about 2 1/2 pounds) fully ripened fresh Florida tomatoes
2 tablespoons butter
1/2 cup coarsely chopped andouille sausage
1/2 cup coarsely chopped onion
1/2 cup coarsely chopped carrot
1/3 cup coarsely chopped celery
2 teaspoons finely chopped garlic
3 tablespoons all-purpose flour
3 cups chicken stock
3 tablespoons tomato paste
2 teaspoons sugar
1 teaspoon chopped fresh rosemary
1/2 teaspoon salt
1/4 to 1/2 teaspoon ground red pepper (cayenne), optional
1/4 teaspoon ground white pepper
1 cup cooked converted white rice
1/4 cup heavy cream
Croutons and rosemary sprigs for garnish, optional
Set grill or broiler rack about 4 inches from heat source; preheat grill or broiler. Core tomatoes place on grill or in roasting pan under the broiler. Cook, turning once, until skin blackens, 30 to 40 minutes.
In medium saucepan, melt the butter; add sausage, onion, carrot, celery and garlic. Cook, stirring occasionally, until vegetables just begin to brown, about 5 minutes; reduce heat to low. Sprinkle flour over the vegetables; cook and stir until flour begins to brown, 3 to 5 minutes.
In a blender or food processor, coarsely chop grilled tomatoes; add to vegetables in saucepan. Stir in the stock, tomato paste, sugar, rosemary, salt, red pepper and white pepper. Simmer 15 minutes; partially covered.
Add rice and cream; cook just until hot. Spoon into soup plates dividing equally. Garnish with croutons and rosemary sprigs, if desired.
YIELD:GRAND PRIZE WINNER
2009 Florida Tomato Student Chef Recipe Contest
Recipe by: David Colombe
Supervising Instructor: Mike Barillaro
Okanagan Kelowna Campus,
Vernon, British Columbia, Canada