Instructions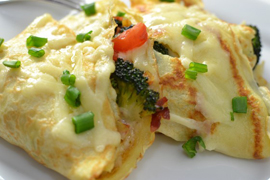 These savory crepes make an excellent brunch or dinner dish. Don't let crepes scare you – if you can flip a pancake, you can make a crepe!
Crepe Filling
1 head of broccoli
1 bag of spinach
4 cloves of garlic
1 yellow onion
5 strips turkey bacon
5 Florida tomatoes
1 block sharp cheddar cheese
1/2 cup scallions
1/4 teaspoon salt
1/4 teaspoon pepper
Basic Crepe
3/4 cup all-purpose flour
2 eggs
1/3 cup water
1 tablespoon melted butter (slightly cooled – not hot)
1/3 cup milk
1/3 teaspoon salt
Blanch the broccoli.
Cook turkey bacon strips in a medium-sized pan, leaving whatever fat is remaining. Remove when cooked from pan and pat down with paper towel. Once cooled, chop into bite size pieces.
In the same medium-sized pan, turn heat to medium high and add a teaspoon of olive oil.
After the olive oil has heated a bit, add minced garlic and diced onion. Cook until translucent.
Add spinach and sauté. When the spinach is almost done, add the already blanched broccoli.
Turn heat to low and add 5 diced Florida tomatoes and the cooked bacon.
Shred block of cheddar cheese and set aside.
Once the filling has been made, you can get started on the crepes!
At this point, turn oven to 350F.
Mix batter together and let rest (covered) in the refrigerator for up to an hour.
Heat a lightly oiled griddle or frying pan over medium high heat. Pour or scoop the batter onto the griddle, using approximately 1/4 cup for each crepe. Tilt the pan with a circular motion so that the batter coats the surface evenly.
Cook the crepe for about 2 minutes, until the bottom is light brown. Loosen with a spatula, turn and cook the other side.
Fill the crepes as they are coming off the stove. Add about two heaping tablespoons of filling and a small handful of shredded cheese. Transfer them into a baking dish and fold either quesadilla style or rolled like an enchilada.
After the crepes are all finished, cover them in shredded sharp cheddar cheese and bake until the cheese is bubbly.
Top with diced scallions.
YIELD: 8 crepes
This recipe was developed by Alicia Behan, author of the blog The Wannabe Foodie.