Instructions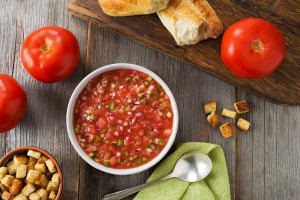 This cold tomato and vegetable soup has become a mainstay of the American diet. This version is thick with chopped fresh Florida tomatoes, cucumbers, green peppers, and red onions. If you would like thinner version or need to stretch it, add up to 2 cups tomato juice. For a seafood variation, add a small can of minced clams and their juice.
6 large Florida tomatoes
1 large cucumber, peeled, seeded and finely diced
1 large green bell pepper, finely chopped
1 medium-sized red onion, minced
3 tablespoons red wine vinegar
2 tablespoons olive oil
Juice of 1/2 lemon
2 to 3 tablespoons chopped fresh parsley to taste
2 tablespoons chopped fresh basil or 2 teaspoons dried
Salt and freshly ground pepper to taste
Tabasco sauce to taste
Herb croutons (optional)
Peel the tomatoes by submerging them in boiling water for 15 seconds. Remove to a colander and rinse under cold water. The skins should slip right off.
Core the tomatoes and gently squeeze out the seeds. Chop half of them coarsely and puree the other half in a food processor. Combine the puree and shopped tomatoes in a large mixing bowl.
Blend the remaining ingredients, except the herb croutons, with the tomatoes. Cover and refrigerate for several hours before serving. Serve chilled, garnished with herb croutons.
YIELD: 6 servings