Instructions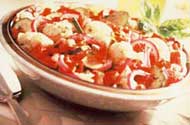 One of the most enjoyable ways to eat your vegetables is Greek style, simmered gently in a wine marinade. Refrigerated overnight, the vegetables absorb the marinade and take on a flavor that complements just about anything you serve these with. The fresh Florida tomatoes add a splash of color and fresh, sweet flavor.
1 large head of cauliflower
1 medium-size zucchini, sliced into thin rounds
1 medium-size red onion, halved and thinly sliced
1-1/2 cups dry white wine
3/4 cup white vinegar
1/3 cup olive oil
water
2 bay leaves
6 peppercorns
1-1/4 teaspoon salt
2 teaspoons fresh thyme or 1 teaspoon dried thyme
1 tablespoon chopped fresh basil or 1 teaspoon dried
3 large fresh Florida tomatoes, cored, seeded, and diced
1/4 cup chopped fresh parsley
Cut the cauliflower into florets and put them into a large nonreactive pot with the zucchini and red onion. Add the wine, vinegar, oil, and just enough water to cover. Add the bay leaves, peppercorns, salt, and herbs.
Bring the liquid to a boil, then lower the heat and simmer gently, partially covered, for about 15 minutes, until the cauliflower is just crisp-tender. Remove from the heat and transfer the vegetables and liquid to a pottery bowl to cool. Cover and refrigerate overnight.
To serve, drain the vegetables (the liquid can be used to cook another batch of vegetables) and transfer to a serving bowl. Toss in the tomatoes and parsley and serve cold or at room temperature.
YIELD: 6 to 8 servings
NOTE: If you aren't serving all the vegetables at once (they'll keep 4 to 5 days, refrigerated), remove what you need from the marinade with a slotted spoon. Toss with proportionately less tomato and parsley and serve.