Instructions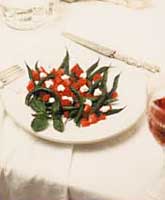 1 pound firm, ripe red tomatoes
1/4 cup olive oil
2 cloves garlic, minced
2 pounds fresh green beans, trimmed
Salt & freshly ground pepper
1 cup fresh basil leaves, cut into strips
4 ounces goat cheese, crumbled
Rinse tomatoes in cold water and drop them into a pot of boiling water. When water returns to a boil, cook for about 1 minute, then drain and allow to cool. When cool enough to handle, peel, remove seeds, and cut into large pieces.
In a sauté pan with a lid which can later accommodate all of the green beans, warm olive oil over medium heat. Add garlic and sauté until golden. Add tomatoes, turn up heat and cook for 5 to 6 minutes. Add green beans, reduce heat to medium, sprinkle with salt and pepper to taste and cover with lid. Cook, stirring occasionally, until the green beans are tender but firm. If too watery, remove lid and raise to a high heat and cook an additional 5 minutes.
Remove from pan and toss with basil. Sprinkle with goat cheese and serve immediately.
Serves 6 to 8