Instructions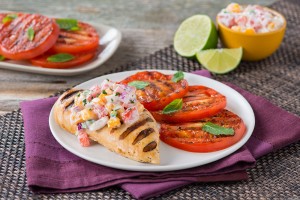 3 whole boneless chicken breasts, skinned and cut in half
1 teaspoon coriander seed
1 teaspoon cumin seed
1 teaspoon fennel seed
1 teaspoon black peppercorns
1 teaspoon red peppercorns
1 teaspoon green peppercorns
1 clove garlic, peeled and sliced
Zest and juice of 1 orange
½ cup white wine
½ cup, plus 2 tablespoons olive oil
Salt and freshly ground black pepper
½ cup chopped Italian parsley
3 firm, ripe, red tomatoes cut into ½-inch thick slices
1 tablespoon finely chopped fresh mint
Rinse chicken and pat dry.
Grind spices together in a blender until lightly crushed. Add garlic, orange zest and juice, white wine and the ½ cup olive oil. Blend until well mixed. Pour marinade over chicken breasts and refrigerate 2 to 4 hours.
Remove chicken from marinade, reserving marinade, and sprinkle chicken with salt and pepper to taste. Grill until just cooked through, 5 to 6 minutes on each side, basting with reserved marinade. Transfer to a warm platter, place a dollop of Tomato-Mango Yogurt Sauce on each piece of chicken and sprinkle with parsley. Set aside.
Place sliced tomatoes on grill, brush with remaining olive oil and grill for about 1 minute on each side. Transfer to the chicken platter, garnish with fresh mint and serve immediately.
Serves 6
TOMATO-MANGO YOGURT SAUCE:
1 cup plain non-fat yogurt
1 cup sour cream
2 tablespoons fresh cilantro, washed & finely diced
4 cloves garlic, peeled and minced
1 medium jalapeno pepper, cored, seeded and finely diced
2 medium firm, ripe, red tomatoes, peeled, cored, seeded and chopped
1 red onion, peeled and diced
1 ripe mango, peeled and diced
Mix all ingredients together until well blended.
Serve over Grilled Indian Spiced Chicken.
Yields 2 cups