Instructions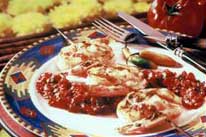 If you can take the heat, try these big grilled shrimp sauced with a blazing tomato salsa. You'll find the canned chipotle peppers (the source of the heat) in most well-stocked supermarkets or in specialty food stores.
4 large Florida tomatoes
2 tablespoons olive or vegetable oil
2 to 3 tablespoons canned chipotle peppers, chopped
2 tablespoons chopped pickled jalapeno peppers
1/4 cup tomato juice
2 tablespoons fresh lime juice
1 tablespoons packed light brown sugar
1/4 teaspoons salt
2 tablespoons minced fresh parsley
3 tablespoons minced red onion
1 pound large (16 to 20) shrimp, peeled and deveined
Core, halve and seed 2 tomatoes. Chop them coarsely and transfer to a bowl.
Core the remaining 2 tomatoes, then cut each horizontally into 3 thick slices. Rub one surface of each slice with a little of the oil. Grill over hot coals for 8 to 10 minutes, oiled side down, until quite soft.
In the bowl of a food processor, combine the grilled tomatoes, chipotle peppers, jalapeno peppers, tomato juice, lime juice, brown sugar, and salt. Process to a slightly rough puree, then stir the puree into the chopped fresh tomatoes. Stir in the parsley and onion. Set aside while you grill the shrimp.
Toss the shrimp with the remaining oil in a bowl. Thread the shrimp onto skewers, salt and pepper them lightly, then grill over hot coals for 3 to 4 minutes on each side or until opaque throughout. Serve hot with plenty of the sauce on the side.
YIELD: 4 to 6 servings