Instructions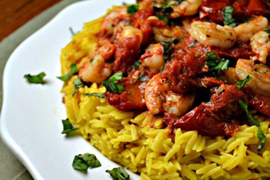 Tomatoes pair wonderfully with herbed shrimp in this fresh and healthy dinner entrée. Roasting
them together brings out a delicious sauce
to serve with orzo.
10 to 12 Florida tomatoes cut into eighths
1 tablespoon dried Italian seasoning
1 teaspoon kosher or sea salt, plus more to taste
1/2 teaspoon fresh ground pepper, plus more to taste
3 tablespoons olive oil, divided
1/3 cup fresh chopped parsley
1/3 cup fresh chopped basil
1 tablespoon crushed garlic
1 1/2 pounds large shrimp, cleaned and deveined
6 cups chicken broth (vegetable broth can be substituted)
1/2 teaspoon saffron threads
2 tablespoons butter
16 ounces dried orzo
Preheat oven to 375F.
In a large bowl mix together, cut tomatoes, Italian seasoning, 1 teaspoon salt and 1/2 teaspoon pepper. Spread evenly on a large baking sheet and drizzle 2 tablespoons of the olive oil over them (reserve 1 tablespoon olive oil). Roast in the oven for 30 minutes.
While tomatoes are roasting, mix together the remaining 1 tablespoon olive oil, parsley, basil and garlic in a large sized bowl. Add shrimp and make sure they are coated well. After tomatoes have roasted for 30 minutes, add the herbed coated shrimp to the pan while lightly mixing together.
Cook the tomatoes and shrimp for another 15 to 20 minutes or until shrimp are cooked. Place the cooked tomatoes and shrimp in a big bowl. Stir together so juices are evenly distributed.
Cook the orzo while tomatoes and shrimp are roasting. Add the broth, saffron and butter to a medium sized sauce pan. Bring to a boil for a few minutes and let the saffron threads pop. Add the orzo and cook for 8 to 10 minutes until al dente. Make sure to stir occasionally so orzo does not stick to the bottom of the pan. Drain any remaining broth after orzo is cooked.
Serve the shrimp and tomatoes over the hot orzo. Add extra salt and pepper to taste.
YIELD: 6 servings
This recipe was developed by Lisa Grant, author of the blog Jersey Girl Cooks.