Instructions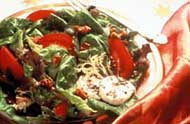 Marinating goat cheese in olive oil, basil, and crushed fennel seeds softens the flavor of the cheese and makes it taste especially wonderful with the tomatoes. The marinade is mixed with lemon juice and honey, then used as a vinaigrette dressing with the salad. A few toasted nuts scattered on top of each salad are a nice touch.
1/2 cup olive oil
1/2 teaspoon crushed fennel seed (see note)
1/2 teaspoon dried basil or several fresh basil leaves, torn into pieces
Coarsely ground fresh pepper
1 1/4-pound (4 oz.) log goat cheese
1 head of Boston lettuce, separated into leaves
2 large Florida tomatoes, cut into wedges
3 tablespoon fresh lemon juice
1-1/2 tablespoon honey
Salt to taste
1/4 cup toasted chopped pecans or walnuts (optional)
Blend the oil, fennel seed, basil, and pepper in a pottery bowl or pie plate. Slice the goat cheese into 8 rounds and lay them in the oil. Cover and marinate at room temperature for 2 to 3 hours.
When you are ready to serve the salad, arrange the salad greens on individual serving plates. Place several tomato wedges and 2 rounds of goat cheese on each plate, reserving the marinade.
Heat the lemon juice and honey in a small skillet just long enough to liquefy the honey. Whisk the lemon and honey and a pinch or two of salt into the reserved marinade and serve some of this dressing over each salad.
YIELD: 4 servings
NOTE: To crush whole fennel seed, use a rolling pin.