Instructions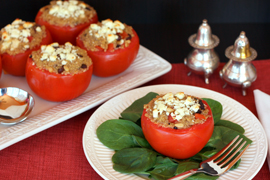 This vegetarian and gluten-free dish can serve
as a light main course or hearty side dish. It is best with fresh tomatoes because while the
quinoa filling is extremely flavorful, the tomatoes are seasoned with just a pinch of salt and pepper and only warmed slightly, so the sweetness of the tomato really shines through, and the freshness is highlighted.
1 cup uncooked quinoa, rinsed
2 cups chicken or vegetable broth/stock
1 teaspoon dried oregano
6-8 large Florida tomatoes
1 tablespoon olive oil
2 tablespoons balsamic vinegar
1/4 cup kalamata olives, chopped
1 cup (about 4 oz.) crumbled feta cheese, divided
1/4 cup toasted pine nuts
Kosher salt and freshly ground black pepper
Combine the quinoa, broth and oregano in a saucepan.
Cover and bring to a boil.
Reduce heat to medium-low and simmer for 10-15 minutes, or until quinoa is cooked and liquid is fully absorbed (or cook as per package instructions).
While the quinoa is cooking, slice about 1/2 inch off the tops of the tomatoes, and set tops aside.
Scoop out the insides of the tomatoes so that you have just a shell remaining.
Sprinkle the insides of the tomatoes with salt and pepper and place in a baking dish.
Dice the tops of the tomatoes so that you have about 1/4 cup diced tomatoes, and set aside.
Preheat your oven to 350F.
Once the quinoa has finished cooking, stir in the olive oil, balsamic vinegar, chopped olives, 1/2 cup of the feta, pine nuts, and reserved diced tomatoes. Add salt and pepper to taste.
Divide the quinoa mixture among the tomatoes and pack in slightly.
Divide the remaining 1/2 cup feta cheese over the tops of the tomatoes.
Bake for 20-25 minutes, or until heated through, and cheese has browned slightly.
This recipe was developed by Brianne Izzo, author of the blog Cupcakes & Kale Chips.