Instructions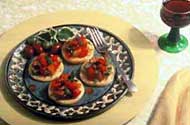 A sweet and sour relish which is simple and quick to prepare and has many uses. It is excellent as a stuffing for baked tomatoes, tossed with your favorite pasta, or served with grilled lamb chops or roasted chicken. It keeps extremely well in a covered jar in the refrigerator.
1 cup olive oil
1 medium eggplant, cubed
1 medium yellow onion, diced
1 cup celery, cut crosswise into ½-inch slices
1 cup mixed yellow, orange, and green peppers, diced
1/3 cup golden raisins
1/3 cup green olives, pitted and coarsely chopped
1 cup Greek olives, pitted, sliced
1 cup capers
2 medium firm, ripe, Florida tomatoes, peeled, seeded and diced
1 T. sherry vinegar
1-1/2 T. balsamic vinegar
1 clove garlic, peeled and crushed
Salt and freshly ground black pepper
1 pound prepared tube polenta, sliced into ½ inches thick rounds and grilled
2 T. basil, minced
In a large skillet warm 4 T. of the olive oil over medium-high heat. Add eggplant and sauté until nicely browned on all sides. Remove and place in small bowl. Set aside.
In the same skillet add another 2 T. olive oil and, when warm, add onion, celery and peppers. Cook until tender, about 15 minutes. Return the cooked eggplant to the skillet, add raisins, olives, and capers. Stir until everything is well mixed. Gently stir in the tomatoes and cook for another 10 minutes. Set aside and keep warm.
Combine the remaining 6 T. olive oil, sherry, balsamic vinegar, garlic and salt and pepper to taste in a small bowl. Whisk until smooth.
Pour over the vegetable mixture. Toss lightly. Generously mound the mixture, (about 1 T.) on top of each slice of grilled polenta. Sprinkle with basil.
Serves 12