Instructions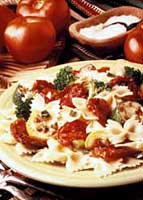 1-1/2 pounds fresh Florida tomatoes
6 tablespoons olive oil, divided
1 teaspoon salt, divided
2 medium zucchini squash, cut in ¾-inch chunks (about 1-1/2 cups)
2 green onions (scallions), coarsely chopped (about ½ cup)
2 teaspoons minced garlic
3 cups (8 ounces bowtie pasta, uncooked)
3 cups broccoli florets
2 tablespoons balsamic vinegar
½ teaspoon ground black pepper
Preheat oven to 450F. Use tomatoes held at room temperature until fully ripe. Cut tomatoes into 1/s inch thick slices; remove seeds with the tip of the knife. Arrange slices on an oiled rack in a roasting pan. Brush with 1 tablespoon of the olive oil; sprinkle with ½ teaspoon of the salt. Place on a rack in the top portion of the oven. Roast for 25 minutes.
Meanwhile, in a large bowl combine zucchini, yellow squash, green onions, garlic and 2 tablespoons of the olive oil; toss to coat. Place vegetables in another large pan. Place in oven along with the tomatoes; cook until tomatoes are wrinkled and slightly dry and squash are tender, about 25 minutes.
Meanwhile, cook pasta as label directs adding broccoli florets to pasta during last 3 minutes of cooking time; drain pasta and broccoli; transfer to large serving bowl. Add roasted tomatoes and squash mixture.
In a small bowl, combine vinegar with pepper, remaining 3 tablespoons olive oil and ½ teaspoon salt. Pour over pasta mixture; toss to coat. Serve hot or at room temperature with grated parmesan cheese, if desired.
YIELD: 4 portions (about 9 cups)