Instructions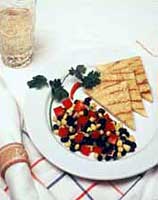 Tomato Basil Salsa may also be served with tortilla chips as an appetizer.
POLENTA:
7 cups chicken stock
2 cups coarse-grained yellow cornmeal
4 cloves garlic, peeled & minced
1/4 cup finely chopped fresh basil leaves
1/2 teaspoon salt
1/4 teaspoon freshly ground pepper
1 tablespoon butter
2 tablespoons freshly grated Parmesan cheese
1/4 pound wild greens
Butter an 11/9 jelly roll pan. In a very large heavy-duty pot, bring chicken stock to a boil. Add cornmeal in a steady stream, stirring continuously. Add garlic, basil, salt & pepper. Reduce heat to medium and cook stirring constantly with a wooden spoon until mixture comes to a boil. Simmer 20 to 30 minutes, stirring occasionally (or until the cornmeal forms a mass and pulls away from the sides of the pan).
Stir in butter & cheese. When butter has melted, remove Polenta from heat & pour into prepared jelly roll pan. Set aside to cool.
When cool cut into 3″ x 3″ squares, then cut each square into a triangle. Grill both sides until golden & immediately serve on a bed of wild greens with Tomato Basil Salsa.
TOMATO BASIL SALSA:
1 cup black beans, softened or 1 can (15 oz), rinse & drain
1 large red onion, chopped
2 large firm, ripe, red tomatoes, chopped
1 10-ounce pkg. frozen whole kernel corn, thawed
1 medium red pepper, cored, seeded, & finely diced
1 small jalapeno pepper, cored, seeded, & finely diced
Dash of hot pepper flakes
1 tablespoon balsamic vinegar
1/4 cup olive oil
Salt & freshly ground pepper
1 cup fresh basil, cut into strips
Combine all ingredients except basil, in a medium size bowl. Set aside for 1 hour to allow flavors to meld. Stir in fresh basil strips before serving.
Serves 6