Instructions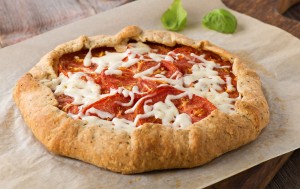 This simple tart is baked directly on a baking sheet. You'll love herb-flecked dough, which is made up quickly in your food processor. Add a colorful salad and you have a great meal.
Pastry
1 1/4 cups all-purpose flour
2 teaspoons dried basil
1/4 teaspoon salt
8 tablespoons (1 stick), cold unsalted butter, cut into small pieces
1/4 cup cold water
Filling
3 tablespoons olive oil
3 cups halved and thinly sliced onion
1 clove garlic, minced salt to taste
1 tablespoon semolina or fine cornmeal
2 large fresh Florida tomatoes
salt and freshly ground pepper to taste
1 cup grated provolone or mozzarella cheese
To make the pastry, combine the flour, basil, salt, and butter in a food processor. Turn the machine on for 10 seconds. Add 2 tablespoons of the water and run the machine for 5 seconds. Add the remaining 2 tablespoons of water and turn the machine on for about 7 more seconds, until the mixture forms damp crumbs.
Empty the crumbs into a bowl and pack the pastry together, adding a few more drops of cold water if necessary. Kneed the dough 2 or 3 times in the bowl, then flatten it into a thick disk on a sheet of plastic wrap. Wrap and refrigerate for 30 minutes.
Heat the olive oil in a large heavy skillet. Add the onion and sauté over low heat for 10 to 12 minutes, stirring occasionally, until golden brown. Add the garlic, salt the onion slightly, and sauté 1 minute more. Scrap the onion onto a plate and cool. Preheat the oven to 400 degrees.
To assemble, roll the dough into a 13-inch circle on a sheet of lightly floured wax paper. Invert the pastry onto a baking sheet and peel off the paper.
Sprinkle the semolina or cornmeal onto the pastry in roughly a 9-inch circle in the center of the tart. Spread the onions over the semolina. Add cheese on top of onions. Core the tomatoes and cut them into slices nearly 1/4-inch thick. Arrange the slices in an overlapping circle over the onions, with several slices in the center. Lightly salt and pepper the tomatoes.
Fold the edges of the dough up over the filling, pleating it as you go. Bake on the center rack of the oven for 45 minutes. Slide the sheet out and cover the tomatoes with the grated cheese. Bake for 10 more minutes (bake in one time period 55 minutes).
Cool the tart on the sheet on a rack for 10 to 15 minutes. Cut into wedges and serve.
YIELD: 6 to 8 servings