Instructions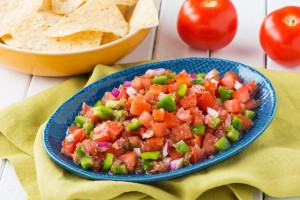 For this salsa you won't need to run out and buy special ingredients, and it is mild enough for the whole family. Best of all it tastes great and you need only 5 minutes to whip it up, though the flavor mellows and becomes more complex if it sits overnight. Serve at room temperature for best flavor.
1 small red onion, coarsely chopped
1 medium green bell pepper, coarsely chopped
1 small bunch (8 to 10 sprigs) fresh parsley leaves
2 large or extra-large fresh Florida tomatoes, cored
3 tablespoons red wine vinegar
1 tablespoon lemon juice
1 teaspoon ground cumin
Salt and freshly ground pepper to taste
Combine the onion, green pepper, and parsley in a food processor. Process for 10 seconds, scrape down the sides, and process again until the mixture is finely chopped.
Halve the tomatoes and squeeze out most of the juice and seeds. Chop the tomatoes coarsely, then add them to the processor. Pulse several times to make a textured sauce: little bits of onion and tomato should remain. Transfer the mixture to a bowl and stir in the vinegar and lemon juice.
Put the cumin in a small saucepan and toast over low heat, stirring, for 2 to 3 minutes, just until the cumin starts to smoke. Stir it into the salsa along with salt and pepper. Cover and refrigerate until serving time. The salsa will keep for about 1 week in the refrigerator.
YIELD: about 2 cups
Note: For hotter version, substitute 1 seeded fresh jalapeno pepper for the green pepper. Also, if you prefer, use toasted cumin seed instead of ground cumin.