Instructions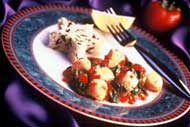 This sauté can be prepared in under 20 minutes, which makes it the perfect choice for a midweek meal after a hectic day. If you serve it over rice, all you need to add is a steamed vegetable or salad and good bread.
2 tablespoons olive oil
1 clove garlic, minced
1 pound bay scallops or 1 pound sea scallops, halved
1 tablespoon chopped fresh basil or 1 t. dried
3 large Florida tomatoes, seeded and coarsely chopped
10 ounces fresh spinach, stems removed, thoroughly washed
Salt and freshly ground pepper to taste
Gently heat the oil and garlic in a large nonreactive skillet over low heat for 1 minute. Stir in the scallops, cover, and cook for 1 minute.
Stir in the basil, tomatoes, spinach, and salt and pepper to taste. Cover and cook for 4 to 5 minutes, stirring occasionally, until the scallops whiten. Serve at once, spooning the scallops and their sauce over rice.
YIELD: 4 servings