Instructions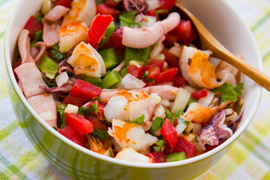 The delicious combination of fresh vegetables and succulent seafood is a light and refreshing dish and makes for a fabulous appetizer, side dish or accompaniment to a Mexican feast.
2 cups seeded and diced Florida tomatoes
3/4 cup diced onions
1/2 large green pepper, chopped
1/4 cup corn kernels
1 garlic clove, minced
1/4 cup finely chopped fresh cilantro
Juice of 1/2 a lime
1 teaspoon extra virgin olive oil
Salt and pepper to taste
3 oz. grilled squid
3 oz. grilled shrimp
Grill squid and shrimp.
In a large bowl, combine chopped and diced vegetables, garlic, cilantro, lime juice and olive oil.
Season with salt and pepper and let sit at room temperature for 30-60 minutes.
In the meantime, chop grilled squid and shrimp into bite size pieces. Toss squid and shrimp with vegetables.
Serve with tortilla chips or as a topping for tacos, burritos and fajitas.
This recipe was developed by Allie Mak, author of the blog Live Laugh Eat.