Instructions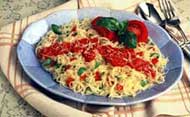 Spaghetti squash is a rich, mellow vegetable and when accented with sautéed fresh Florida tomatoes, and with a hint of balsamic vinegar, it becomes a delicious entrée.
1 large spaghetti squash, cut in half lengthwise
3 T. olive oil
5 medium firm, ripe, Florida tomatoes, peeled, seeded and chopped
1 clove garlic, peeled and crushed
1 cup balsamic vinegar
Salt and freshly ground black pepper
1 cup Parmesan cheese, freshly grated
1 cup fresh basil, cut into strips
Preheat oven to 350 degrees.
Wrap squash halves in foil, place in baking dish and bake or 45 minutes, or until tender.
Remove squash from oven and remove foil. Scoop out seeds and stringy fibers and discard. With a large spoon scoop out flesh into a bowl. Using two forks, pull apart flesh so that it separates into slightly crisp spaghetti strands. Transfer to an oven proof dish and keep warm in oven.
In a large-sized sauté pan, warm olive oil over medium heat. Add tomatoes and garlic and cook for 20-30 minutes, until mixture is thick. Add vinegar, salt and pepper to taste.
Remove squash from oven and top with the prepared tomato sauce. Sprinkle with Parmesan cheese, and basil strips. Serve immediately.
Serves 4 to 6