Instructions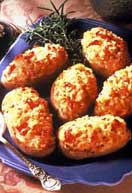 Garlicky tomato chunks add a fresh new twist to an old favorite, baked stuffed potatoes. To make these extra- generous, we bake 2 extra potatoes and use their flesh in the stuffing.
8 extra-large baking potatoes, scrubbed
1 T. olive oil
2 T. unsalted butter
1 large onion, chopped
6 cloves garlic, minced
2 large fresh Florida tomatoes, cored, seeded, and cut into bite-size chunks
1 T. red wine vinegar
1/2 cup sour cream
1/2 cup freshly grated Parmesan cheese
salt and freshly ground pepper to taste
Bake the potatoes until the flesh is tender. Slice the potatoes lengthwise and cool briefly. When they're cool enough to handle, spoon the flesh into a bowl, leaving a thick enough casing to support the filling. Reserve the 6 best casings.
Heat the olive oil and butter in a medium-size skillet. Add the onion and sauté over medium heat, stirring, for 10 to 12 minutes, until the onion is golden brown. Stir in the garlic, sauté for another minute, then remove from the heat and scrape into a bowl.
Put the skillet back on the heat. Add the tomatoes and sauté them for 1 to 2 minutes over medium heat, just until they start to soften. Stir in the vinegar, cook for a few more seconds, then transfer to the bowl with the onions. Preheat the oven to 400 degrees.
Using a potato masher, mash the potato flesh with the sour cream, leaving it a little on the chunky side. Add the Parmesan cheese, then fold in the reserved tomato mixture. Salt and pepper the stuffing to taste, then pack it into the reserved skins, dividing it equally.
Bake the tomatoes for about 25 to 30 minutes, until heated through. Serve hot.
YIELD: 6 servings