Instructions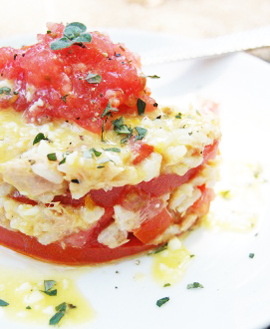 This summertime favorite can serve as an appetizer or light lunch.
Rice
1 cup of any type of rice, washed
1-2 teaspoons of olive oil
1/4 cup of onion – chopped
1 1/2 cup of chicken stock
1 teaspoon of salt
Vinaigrette
2 tablespoons of apple cider vinegar
6-7 tablespoons of olive oil
1 tablespoon of maple syrup
Salt and ground pepper (to taste)
1 boiled egg, chopped into small pieces
Rice Salad
1 cup of cooked cooled rice (recipe above)
1 can of tuna in olive oil
1/2 cup of chopped Florida tomatoes
Salt and pepper to taste
1/4 cup of vinaigrette (recipe above)
Chopped herb of choice – oregano, basil or parsley
In a saucepan with lid, on high heat, drizzle the oil and add the chopped onions and cook until soft. Add the rice and salt. Coat the rice and add the chicken stock. Bring to a hard boil, cover and lower the heat to simmer and cook until the rice has absorbed the stock, about 20 minutes.
When the rice is finished, remove from saucepan and spread on a baking sheet to cool down to room temperature.
Next start on your vinaigrette.
In a deep bowl, add the vinegar and maple syrup and whisk; then slowly add the olive oil until it starts to thicken a bit. Add the boiled egg and taste. Add salt and pepper to taste.
For your rice salad, take half of your tomatoes and cut into small pieces. Season with a bit of salt and pepper and toss. In a separate bowl, add the can of tuna with oil. Break up the tuna and season with a bit of salt, add the cold rice and toss. Add the chopped tomatoes and toss. Add the vinaigrette a little at a time – you want the salad to be coated in the vinaigrette but not too much.
To create your stack, cut tomato into 1/2 inch rounds (one tomato yields approximately four rounds) and put on your plate, or inside a plating ring (if using) and season with salt, to taste. Pile some of the rice salad on top, pressing down gently. Top with another round tomato slice, season again with salt and top with more rice salad. You can finish with another round top of tomato, or mince some tomato and use to place on the top. If using a plating ring, remove slowly. Drizzle top of tower and plate with vinaigrette and sprinkle with finely chopped fresh herb of choice.
Serve at room temperature.
Serves 4
This recipe was developed by Monica Caretto, author of the blog Sweetbites Blog.