Instructions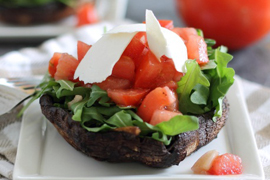 This simple dish highlights the flavor of fresh tomatoes and can serve as a vegetarian appetizer or a side dish.
1 large ripe Florida tomato, chopped
2 Portobello mushroom caps, cleaned & stems removed
2 tablespoons extra virgin olive oil, divided
Salt & pepper to taste
1 tablespoon minced shallots
1/2 tablespoon balsamic vinegar
1/2 cup baby arugula
Ricotta salata, shaved with a vegetable or cheese peeler, as much as desired
Preheat oven to 400F.
Place Portobello caps on baking sheet and drizzle with 1 tablespoon of olive oil and salt & pepper.
Roast for about 15 minutes, until the water has evaporated out of the mushrooms. Remove from oven and set aside.
In a small bowl, combine the chopped tomato, shallots, remaining olive oil, vinegar and more salt & pepper to taste.
Evenly divide the arugula on top of each mushroom cap and top with the tomato mixture.
Place the shavings of ricotta salata on top of the tomatoes and garnish with additional salt & pepper and/or olive oil if desired.
This recipe was developed by Gina Matsoukas, author of the blog Running to the Kitchen.