Instructions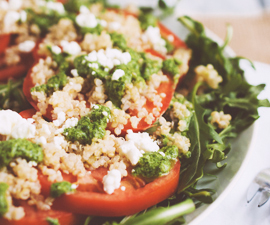 The peppery bite from the arugula and the creaminess of the goat cheese complete this healthy, yet equally satisfying dish.
Salad
3 Florida tomatoes, sliced
4 cups of arugula
1 cup of cooked quinoa (¼ cup dry quinoa +
3/4 cup water)
2 tablespoons crumbled goat cheese for
sprinkling on top
1/4 teaspoon of sea salt
Drizzle of extra virgin olive oil (optional)
Pesto
2 tablespoons of fresh rosemary
1 cup of fresh basil
1/4 cup + 2 tablespoons of extra virgin olive oil
4 teaspoons of crumbled goat cheese
5 cloves of roasted garlic
1 teaspoon of roughly chopped shallot
1/2 teaspoon of lemon zest
1/2 teaspoon of sea salt
1/4 teaspoon of freshly ground black pepper
Preheat oven to 400F.
Slice off the top of the head of garlic so that most of the cloves are exposed.
Drizzle with a little extra virgin olive oil, wrap in foil, place on a baking sheet, and bake for 20-25 minutes until cloves are soft.
Once cool enough to handle, use a butter knife to pop the cloves right out of the skin.
Soak the quinoa for 5 minutes in a small saucepot, then rinse and drain using a fine mesh sieve.
Add drained quinoa back to the pot, 1/4 cups of water and a pinch of salt if desired.
Bring to a boil, cover with a tight fitting lid, and turn the heat down to a simmer. Cook the quinoa for 12 minutes, or until all water is absorbed.
Remove quinoa from heat and allow it to sit for five minutes with the lid on. Fluff with a fork.
To make the pesto, add all of the ingredients, except the extra virgin olive oil, to a food processor.
While it is running, pour the oil through the chute to create a smooth pesto.
On a platter, layer the bottom with arugula and top it with sliced tomatoes. Sprinkle the sea salt over the tomatoes.
Drizzle the arugula with extra virgin olive oil if desired. Add the quinoa, pour the pesto over the top, and sprinkle with crumbled goat cheese.
YIELD: 4-6 Servings
This recipe was developed by Ashley Centola, author of the blog Simple Craves & Olive Oil.